In these challenging times many people are struggling with increased anxiety and stress. Worry about our health and the health of our loved ones, financial issues, disruption to our work and routine, and relationship and parenting challenges are among many of the stressors we are trying to cope with in a changing world.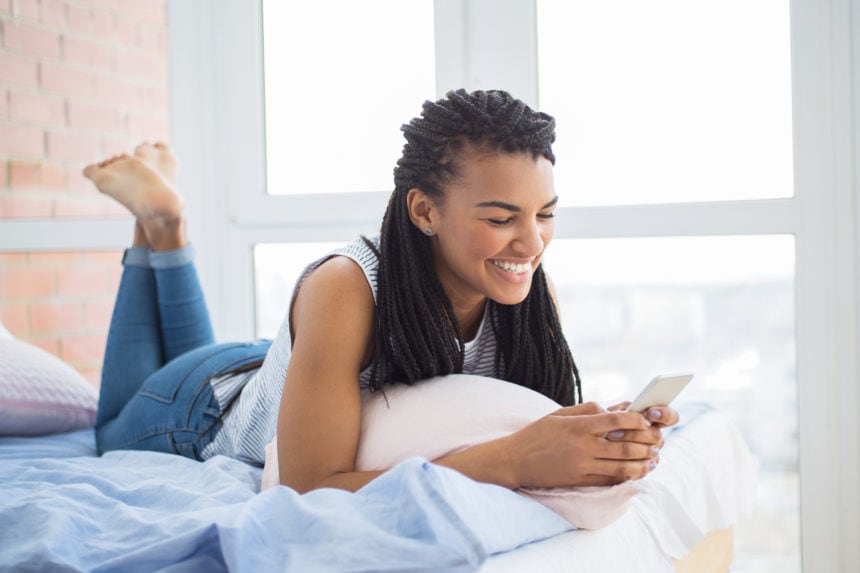 At a time when social distancing is key to our health, incorporating online supports can bolster our coping strategies and resilience. Mental health apps are a useful adjunct to therapy, providing a wealth of tools and resources for us to benefit from.
One of the primary barriers to benefitting from mental health apps is simply determining how to choose from the many, many options online. So to help you out, here is a comprehensive review of the top five apps for anxiety and stress:
Mindshift
This is probably my favorite app! It is a free app that was developed by Anxiety Canada using principles and strategies from Cognitive Behavioral Therapy (CBT), which is an evidence-based approach to addressing anxiety. It was originally developed for teens and young adults, but it is beneficial for all ages.
Mindshift includes the following: 
Mood check-in – enables you to track your mood daily and over time
Quick relief coping tools – guided relaxation techniques, recommendations for behavioural strategies (ex. Going for a walk, watching a funny movie, reaching out to a friend etc.), and (if needed) crisis strategies/contacts
Education – Information about anxiety and how to manage it, including specific education on CBT, exposure therapy, social anxiety, phobia, panic, perfectionism, and general worry
Healthy Thinking section – Education and tools to help you challenge your negative thoughts and replace them with more balanced healthy thought patterns. Tools include a thought journal, coping cards, and belief experiments
Chill Zone – This section includes multiple guided relaxation exercises
Taking Action Section – Education and exercises designed to teach you how to overcome your fears gradually, expand your comfort zone, and engage in healthy habits
Goal setting – To help you identify and work towards your goals
Insight Timer
This is a favourite meditation/mindfulness app among many counsellors. It is free to download but does include a paid subscription for premium access. Unlike other meditation apps I have tried Insight Timer offers a wide variety of free meditations, so it is probably the best app if you are on a budget. In fact, they state that they have "the largest free library of guided meditations" with 40,000 free meditations.
Purchasing a premium subscription provides access to courses, higher quality audio, and advanced player options (rewind, fast forward etc.), and allows you to download meditations and listen offline.
Free access includes the following:
A 7-day introductory course to help you learn how to meditate
A large library of meditations covering a wide variety of topics
Examples of specific meditations include:

Meditations to help you cope with anxiety and stress – Including meditations designed to provide immediate relief from anxiety, address general anxiety as well as panic and overwhelm, manage everyday stress, cope with worry and overthinking, and handle workplace stresses
Mindfulness for the workday – including "morning mindfulness" talks to help you get started for your workday, "talks for the commute", "meeting pause and prep" and "post day wind down"
Meditations to boost self-esteem– including meditations on confidence, self-worth, authenticity and positivity

Meditation timer – this enables you to time your meditation, choose the type of ending bell you prefer, and choose a relaxing ambient sound for your meditation practice
Relaxing Music – A large selection of relaxing music to use anytime
Sleep section – including meditations for sleep, napping, stories to help you wind down and fall asleep, and relaxing music
Meditation tracking and reminders– Tracks your meditation practice (number of consecutive days, minutes practiced, milestones achieved) and provides notification reminders to practice
Kid's section – Meditations, stories, and courses for children and teens
Bookmarks – To easily access your favourite meditations
Sanvello
This app is free to download but includes a subscription cost for much of its content; however, they have offered free premium access during the Covid 19 pandemic. Sanvello was designed to help people struggling with anxiety, stress, and depression. Similar to Mindshift, Sanvello uses an evidence-based CBT approach. Additionally, Sanvello incorporates many meditation and mindfulness exercises, and a peer support section.
Sanvello's core tools include:
Guided Journeys – These are "Master classes" designed to provide you with education and strategies to help you cope with anxiety, stress, and depression. There are four journeys: Feeling better, Taking Control, Building Confidence, and Mindfulness.
Coping Tools:

Meditation – This section provides many different types of guided relaxation tools including deep breathing, progressive muscle relaxation, positive visualizations, mindfulness and meditation activities, including meditations designed to help address specific situations (ex. public speaking, school stress, taking a flight etc.)
Health – A space for you to rate your sleep and exercise levels daily, encouraging you to create and maintain health goals, including daily reminders
Hope – This is a space to post positive images for yourself
Thoughts – This section includes a thought journal, gratitude and positivity journals, and education and exercises to help you challenge negative thoughts and reframe your thinking
Goals – This section helps you identify and document daily short-term goals, including phone reminders to help you achieve them
Mood tracking and assessments – This section enables you to track your mood daily and over time, including weekly quizzes on health and mood
Social support – Sanvello includes community chat groups on a variety of topics
Calm
This is another a meditation/mindfulness app which is free to download, however, much of its content requires premium access (a paid subscription). Calm includes a wide variety of meditations on a broad range of topics.
Calm includes the following:
7 Days of Calm – A free introductory course on the basics of mindful meditation
A large library of meditations – including daily, weekly, and monthly meditation and mindfulness practices on a wide variety of topics including anxiety, stress, sleep, inner peace, self-care, focus, relationships, personal growth, emotions etc.
Meditation tracking and reminders– Tracks your meditation practice (number of consecutive days, minutes practiced, milestones achieved) and provides reminders for bedtime, meditation, and mood check-ins, and it will link with apple health
Sleep stories – This is an area where calm really shines. It includes a wide variety of novels read by a variety of celebrities such as Matthew McConaughey, Stephen Fry, Lucy Liu, Nick Offerman etc. told using a soothing voice to help you drift off to sleep
The Daily Calm – New meditations provided daily
Mood check-in – to help you track your mood throughout the week
Music – A broad selection of relaxing music
Relaxing sounds/images – A variety of beautiful images and relaxing sounds Including pouring rain, coastline at sunset, foggy stream, summer meadow, woodland lake etc.
Breathing exercises – Enables you to choose the duration for your breathing exercise, follow a visual breathing cue for breaths in and out, and try different types of breathing such as "square breathing" while relaxing sounds are played in the background
Calm Body – A variety of gentle stretches for morning, evening, warming up and cooling down from exercise, back care, and "afternoon reset"
Calm Kids -Meditations, sleep stories, lullabies, and soundscapes designed for children
Calm Masterclass – Courses on a variety of topics such as radical self-compassion, breaking bad habits, better sleep, conscious parenting, and gratitude
Headspace
This is also a meditation and mindfulness app. Headspace is similar to Calm in many ways. They are both popular meditation apps which require a paid subscription to access most of the resources. They also both provide a 1-2 week free trial period so you can try before subscribing. There are a few differences which I will highlight when reviewing Headspace.
Headspace includes the following:
A wide range of meditations – Including meditations to address stress and anxiety, panic, pain, sleep, personal growth, life challenges, performance mindset, physical health, work and productivity etc.
An introductory meditation course – A three-part course designed to teach you meditation basics, including cute animations to help you learn
Courses on a variety of topics – Courses on a range of topics such as reframing loneliness, transforming anger, navigating change, and managing anxiety etc.
Sleep – A sleep section with stories told with soothing voices, specific sleep meditations, and relaxing music and playlists, relaxing soundscapes, "wind downs" (meditations and breathing to prepare for sleep) and nighttime SOS (guided exercises when you wake up in the night)
Meditation tracking and reminders– Tracks your meditation practice (number of sessions completed, total time meditated, average duration) and provides reminders
Move section – while calm also incorporates a section with gentle stretches and exercises, headspace seems to have a more extensive collection of workouts designed for different fitness levels and specific forms of exercise (running, cardio, core exercises, "leg day" etc.), as well as related meditations
Kids and parenting section – Including meditations categorized for children age 5 and under, 6-8, and 9-12, as well as a children's sleep section, mindfulness activities parents can do with their children, and section of mediations on parenting topics. The design of the app and the use of animation videos throughout headspace also makes the app appear more kid friendly
Each of these five apps are excellent and certainly worth giving a try. My suggestion would be to download one that interests you and set a goal to use it daily for two weeks. Many of the coping strategies you will learn take practice and remember, habits take time to form! Initially it can be easy to forget to practice, so setting alerts or enabling notifications can provide helpful reminders.
While apps can be a great resource, they are not a replacement for therapy. If you're feeling like technology isn't enough and you need more support, take the brave first step of reaching out to a therapist today.
This post was written by Danielle Simpson. To learn more please visit her therapist profile, or use our online booking system to make an appointment.